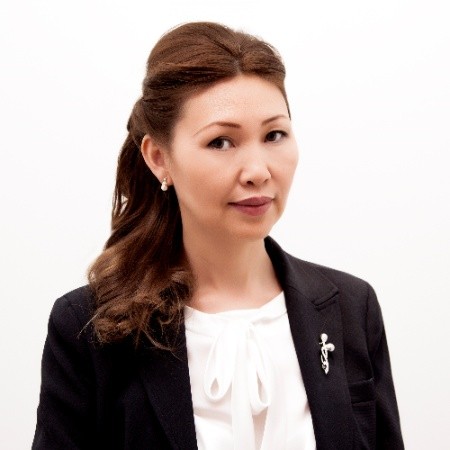 Assem Kernebayeva
Managing Director - Head of the Directorate for Green and Social Initiatives
Eurasian Development Bank
Asem Kernebayeva is one of the leading experts in the banking sector with more than 25 years of experience, including more than 20 years in senior positions. She joined the Eurasian Development Bank (EDB) team in 2015 as a senior project manager. In April 2021, she was transferred to the position of Managing Director - Head of Green and Social Initiatives Directorate. Asem Kernebayeva graduated from Karaganda State University named after E.A. Buketov, Faculty of Finance and Credit Banking. Currently, she is a doctoral student (DBA) at European University Business School (Switzerland). From 2004 to 2015 she held positions from chief specialist to the head of the departments for work with corporate clients, corporate finances of commercial banks JSC "Bank CenterCredit", Subsidiary JSC VTB Bank Kazakhstan. Asem Saparovna has extensive experience in financial analysis and protection of large business client projects, structuring of credit transactions, development of covenant packages, and control over reputational and operational risks. As Head of the Green and Social Initiatives Department, she is primarily responsible for developing the ESG function at EDB, performing environmental and social due diligence of investment projects and assigning ESG status to projects, and expanding the portfolio of projects that meet the criteria of green finance and sustainable development.
Session 4
Sustainable development and ESG factors
The world is on the threshold of a global technological redesign, driven by the ESG agenda and the need to reduce CO2 emissions. These changes present both challenges and opportunities. Climate change has no boundaries and implies joint efforts of all countries to develop global integration and cooperation ties for the fastest and most efficient introduction of new technologies, harmonization of requirements and standards for carbon-neutral industries.For the Eurasian Development Bank, supporting ESG projects is one of the priorities of its strategy for 2022-2026. Already now a system of support for ESG projects by specialized funds and development banks is actively developing in the world, in order to reduce the cost of carbon transition financing.
---