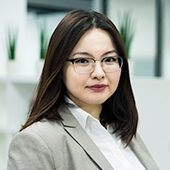 Senior Associate
Haller Lomax
Zarina is a senior associate at Haller Lomax law firm, specializing in natural resources and lawmaking.
For many years Zarina has advised foreign and local clients on all aspects of subsoil use legislation, M&A transactions with exploration and mining assets, as well as on a wide range of legal issues in the field of corporate law, PPP law, infrastructure projects, and investments.
Zarina also has extensive experience in lawmaking having participated in the drafting of the RoK Code "On Subsoil and Subsoil Use" and amendments thereto, the new Environmental Code, and a large number of by-laws in the field of subsoil use.