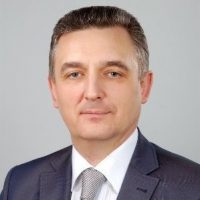 CEO and Co - Founder
K-MINE
Education
1992 – Kryvyi Rih Mining Institute (Kryvyi Rih National University)
1995 – Candidate of Technical Sciences
2007 – Doctor of Engineering
2021 – Fellow AusIMM
Professional Experience
1995 - Director of the K-MINE group of companies Under his supervision, the company has become a leader in automating and digitizing mining companies worldwide using the K-MINE software. Area of professional activity and interests: geographical information technologies, mathematical simulation of mineral deposits, geological and economic evaluation of deposits, mining and geological design works, automation of mining and mineral processing, creation of digital twins for enterprises, integrated production management systems.
Session 9
K-MINE: Comprehensive digital transformation in the processes of management and engineering at the Kootenay minerals
The Kostanay Minerals JSC is the world's leading manufacturer and exporter of chrysotile asbestos. TK-MINE uses advanced integrated software modified for specific mining and geological conditions to maintain its production and business processes. K-MINE helps: — increase the calculation accuracy of volume and accounting of reserve movement based on the created 3D digital model, — speed up the calculation of basic technological indicators at the plan, analyze several options and determine their optimal value, increasing the profit, — simulate safety zones when creating a drilling project, considering the actual mining position, — improve the security of mining operations, — reach a new level of management, etc.
---